Boléro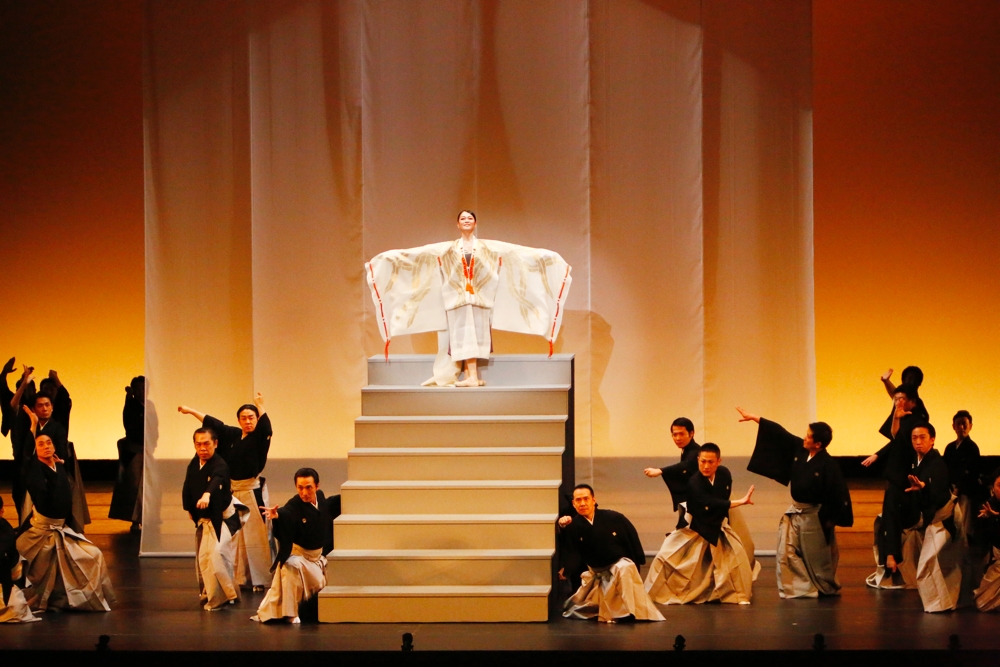 music: Maurice Ravel; Boléro
conductor: Sonoda Yuichiro
orchestra: Tokyo Philarmonic Orchestra
spacial structure and soloist choreography: Alessio Silvestrin
Nihon Buyo ensemble choreography: Hanayagi Stuketaro
soloist: Yoshida Miyako
ensemble: Adzuma Toyotaro, Ichiyama Shosen, Goyo Tamataro,
Saruwaka Seizaburo, Nishikawa Senzaemo, Nisikawa Senshigero,
Nishikawa Semmorito, Nishikawa Daiki, Hanayagi Kihaku, Hanayagi Kusumitsu,
Hanayagi kotoomi, Hanayagi Jutaichiro, Hanayagi Sukezo, Hanayagi Suzuiko,
Hanayagi Sumizo, Hanayagi Seikuro, Hanayagi Chikahiko, Hanayagi Tokitaro,
Hanayagi Niriyuki, Hanayagi Masakatsu, Hanayagi Masahoo, Hanayagi Rakuto,
Fujima Kango, Fujima Jino, Fujima Tatsuya, Fujima Toyohiko, Fujima Naozo,
Matsutake Koyo, Wakayagi kichio, Wakayagi Kichiyu, Wakayagi Kichiyusuke,
Wakayagi Satojiro, Wakayagi Sanjuro
light design: Sawada Yuji
costume design: Studio Each
length: 16 min.
premiere: Nihon Buyo x Orchestra Vol. 2, Tokyo Bunka Kaikan, Main Hall,
Tokyo 13.12.2014
production: Tokyo Bunka Kaikan
The insistent quality of the famous theme of Ravel's Bolero does not ends to transport the senses and the emotions.
From the colourful sounds of the orchestra a new stage by raising its curtain unveils the combination of elegance and refinement from the ballet language together with the traditional ancient beauty of the Japanese Nihon Buyo.
With the increasing dynamics of Bolero, arises the pure desire to offer and express to the audience a joyful moment that elevates the union of different worlds and cultures which are together synchronised by the passionate pulse of this rhythm full of light and movement.
Alessio Silvestrin