Bluebeard's doors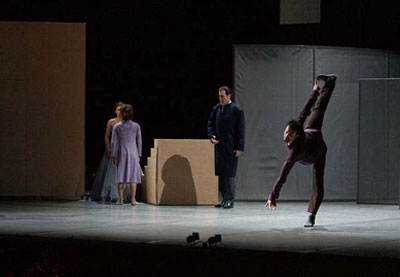 music: Béla Bartók; Bluebeard's Castle op.11
libretto: Béla Balázs
direction, choreography, video and set design: Alessio Silvestrin
conductor: Alexander Drcar
dancers: Bluebeard/ Alessio Silvetrin, Judith/ Naoko Shirakawa
The Spirit of Bluebeard's Castle/ Reijiro Tsumura
Three wives/ Hiroko Asami, Yuka Nakatani, Yui Yonezawa
singers: Bluebeard/ Peter Fried, Judith/ Andrea Szanto
orchestra: Central Aichi Philharmonic Orchestra
light design: Michihisa Kudama
costume design: Shuichi Kuno
video assistance: Ayako Fujimori
length: 60 min.
premiere: Dance Opera 2, Aichi Art Center, Nagoya 11.02.2005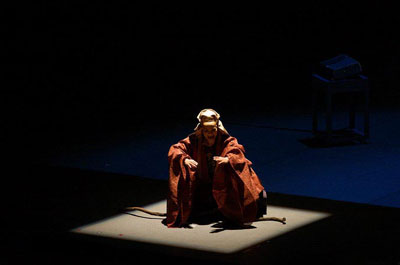 review:
Great Balance of Song and Dance with Tension Dance Opera 2 "Bluebeard's Doors"
Nagoya- Aichi Arts Center produced Dance Opera 2 "Bluebeard's Doors" based on Béla Bartók's opera "Bluebeard's Castle". As the title shows, doors are presented symbolically.
The performance started out by a Noh-player, Reijiro Tumura's prologue.
Through out the performance, he acted as a soul of the Bluebeard's Castle.
There was a wall with a door on Stage Right, and at the Center, there was stairs with partition. As the story goes on, animation of key was projected on the wall on the Stage Right. And from above, seven rectangular panels come down.
The stage set is very Simple and functional however, with the light changes, it created sophisticated ambience.
Bluebeard and Judith were acted by dancers and singers. Dancer, Naoko Shirakawa's supple body represented Judith's purity and passion. Alessio Silverstrin, who directed and danced as Bluebeard moved like a hunchbacked man which represented the darkness of Bluebeard well. Their movements seemed very simple, but as the music approached to the climax, it their movements were connected tightly and expanded with great imagination. Their duet was so intensive and concentrated. On the other hand, the singers who were invited from Hungary, Peter Fried and Andrea Zanto were deeply connected and dramatic from the beginning. The contrast of song and dance created great balance of tension.
The music and dance were bonded closely until the end of the performance.
Central Aichi Symphonic Orchestra played under the conductor, Alexander Drcar from Germany.
Hiroko Asami, Yuka Nakatani and Yui Yonezawa played the role of Three Wives.
From Japan and Europe, talented artists were gathered for one performance.
It was very rich evening.
Megumi Ikeno
On Stage Newspaper 11.03.2005