Mikrokosmos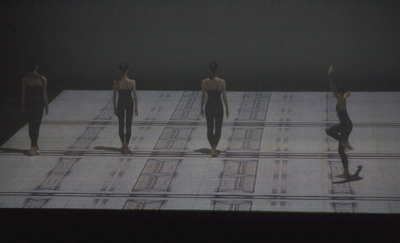 choreography, video, light and costume design: Alessio Silvestrin
dancers: Amy O'Donghue, Kaoruko Shiraishi, Yurie Fujii, Miuki Tahara
music: Béla Bartók
length: 13 min.
premiere: Ycam Center for Arts and Media, Yamaguchi 21.07.2007
The creative process of this choreography finds inspiration from a choice of seventeen piano pieces from the first book of "Mikrokosomos" composed by Béla Bartók.
In analogy to the didactic purpose of the piano music cycle, the choreography becomes a learning experience, which extends movements in coherence to the ballet language explored by four young dancers and proposes them to observe space in relationship to each other. On the same music score, a kind of video animation, projected on different stage surfaces, shows doors whose shape gradually transforms as the piano pieces are listened to.The doors opening towards a space to be drawn by the dancers are creating another visual layer of the performance.
The video animation on the first book "Mikrokosomos" has been presented as well as another video installation, developing some visual aspects of the performance "Bluebeard's Doors" based on the one act opera " Bluebeard's Castle" by Béla Bartók produced in the frame of "Dance Opera 2" at Aichi Art Center in Nagoya 2005.
Alessio Silvestrin